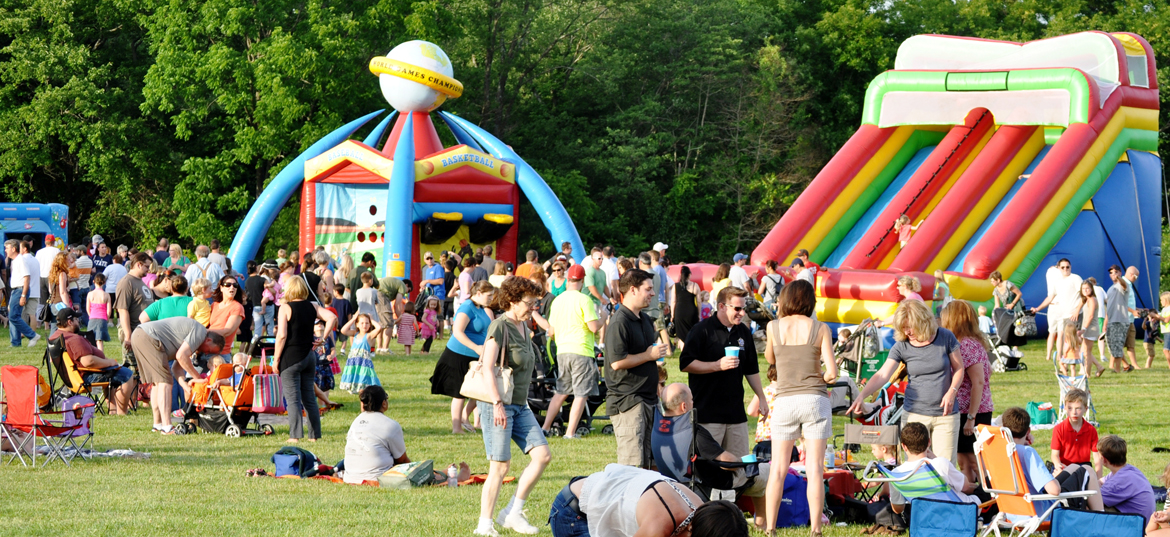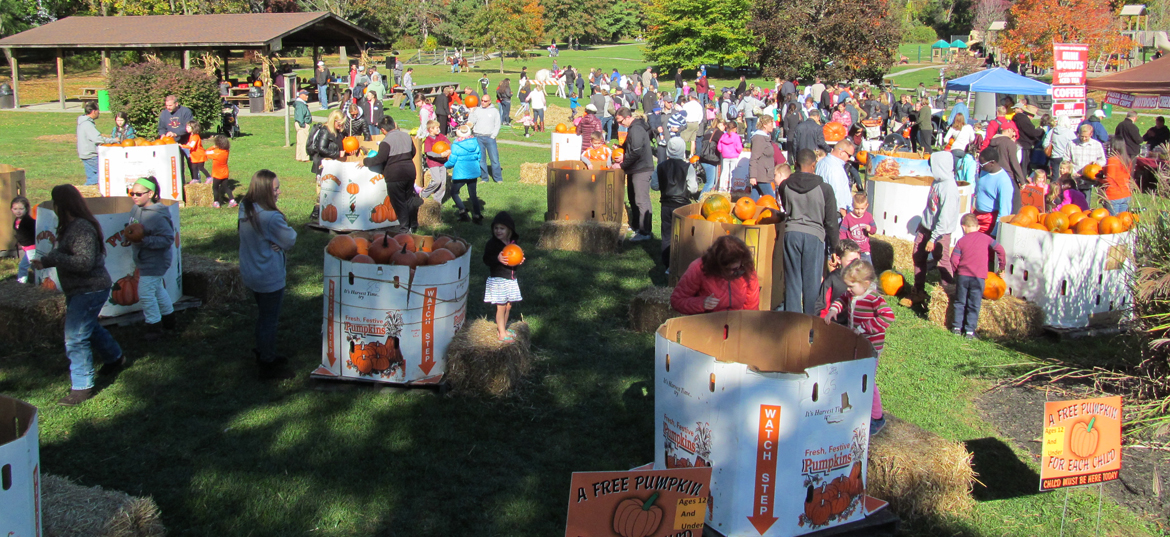 Welcome
Friends of East Goshen, Inc is a 501(c)(3) that seeks to improve the historical, recreational, educational and environmental conditions in East Goshen Township and the greater Southeastern Pennsylvania Region.
Who are We?
Funding community-sponsored, family-fun activities with tax-deductible contributions
Upcoming Events
Saturday, June 3rd from 3pm – dusk.  Bicentennial Celebration of the division of Goshen Township into East Goshen Township and West Goshen Township.
About
---
Funding community-sponsored, family-fun activities with tax-deductible contributions
Description
The Friends of East Goshen Township, Inc., (FOEGT) was incorporated in 2013.  As a non-profit 501C3 corporation, FOEGT in recent years has assisted the Township and the Park and Recreation Department by raising funds through individual and business contributions that are tax deductible.  This fundraising activity has enabled the Township to hold all of its events at East Goshen Park at no cost to the participants. The Friends is operated and directed by an all-volunteer Board of Directors. Almost all of the moneys raised and donated are used for the operation of the major Township events. Only costs for marketing materials are taken from these funds.  FOEGT annually raises more than $35,000 from local contributors. More than 30 percent of individuals and businesses solicited make a contribution.
Mission Statement
The Friends of East Goshen Township will, through the solicitation and acceptance of funds, grants, and other gifts in kind, provide support for the preservation, improvement, and restoration of township parks, recreational facilities, open space, historical resources, and activities. This includes financial support of educational, social, and recreational programs and events designed to improve the quality of life for township residents and the community at large.
News
---
The Benefits of Supporting East Goshen Township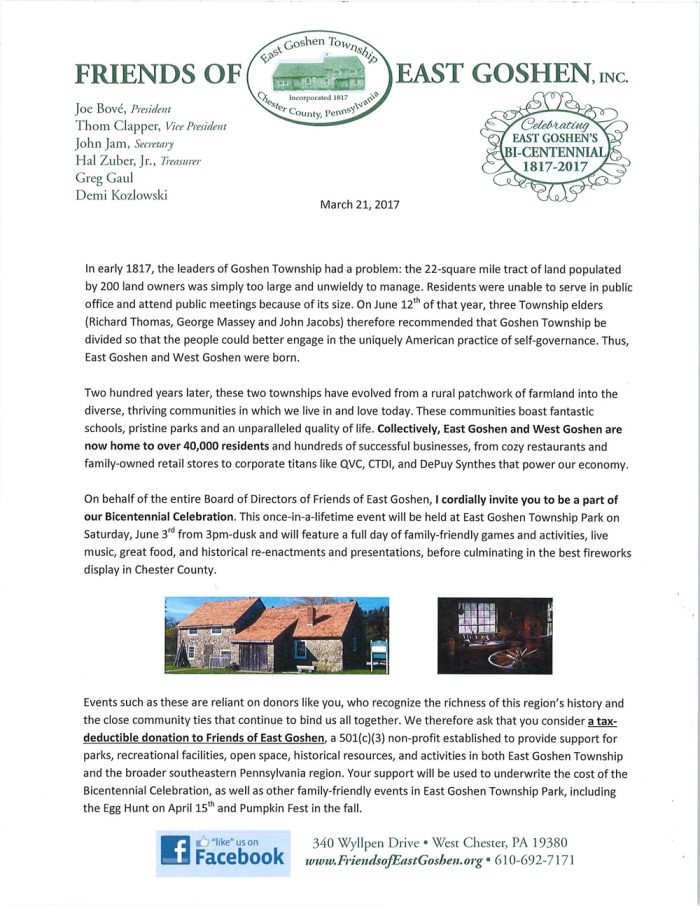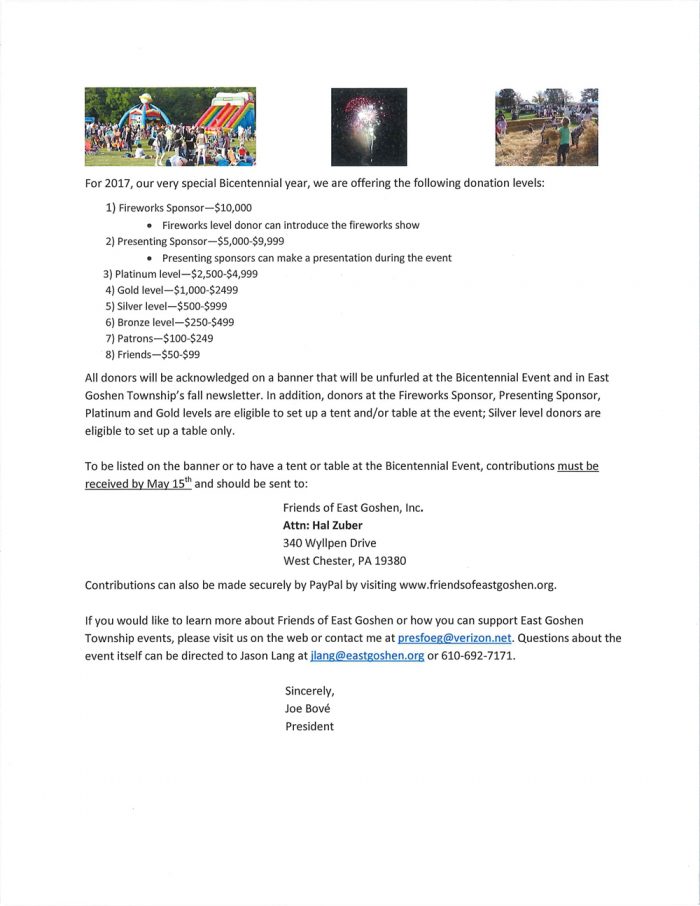 Posted: April 10, 2017
Bicentennial Celebration 6/3/2017 @ 3pm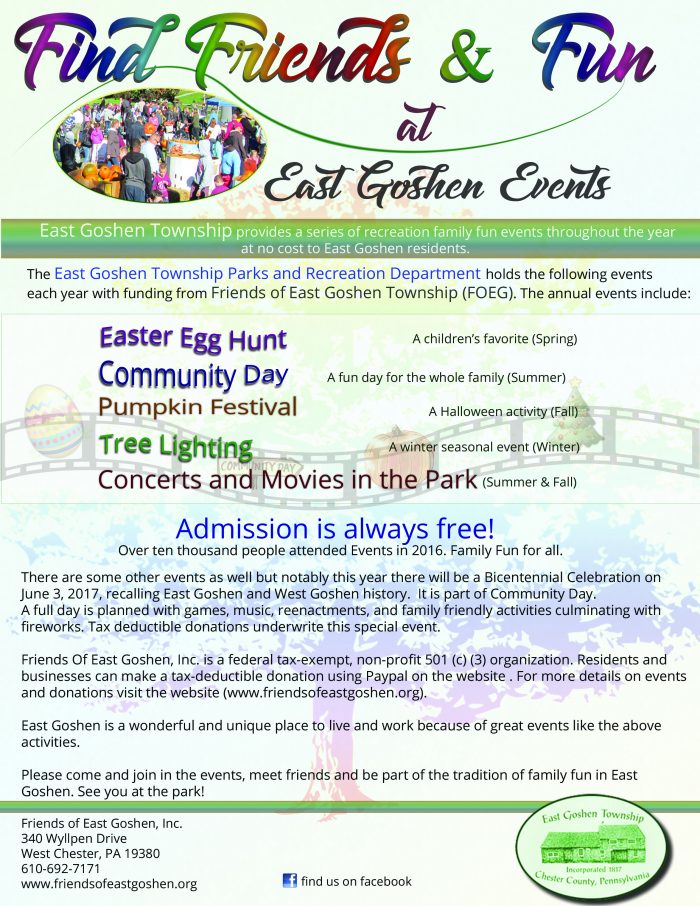 Posted: April 7, 2017
East Goshen Recognizes FOEG
Senya Isayeff, Chairman and Louis Smith, Township Manager recently presented this Certificate of Appreciation to the Friends of East Goshen for outstanding service. President, Joe Bove received the accolade and passed it on with good wishes to the board. FOEG has set some ambitious goals for 2017 and 2018. Future recreation projects in East Goshen look promising.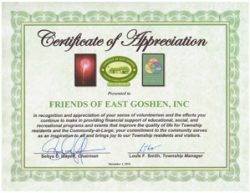 Friends Of East Goshen Certificate of Appreciation
Posted: December 13, 2016
Events
---
Fun for the entire family!
Easter Egg Hunt
The 22nd annual Easter Egg Hunt will take place on Saturday, April 15th. There will be more than 10,000 eggs for the children to collect. The Easter Bunny will make his grand entrance courtesy of the Goshen Fire Company. The event will feature Goshen donuts and hot coffee, just right for a cold spring morning. The fun will begin at 10:00 AM. Please have your kids in position for the fun.  Check your eggs because you could win big prizes if they have special markings. This event attracts some 1,500 people.
Bicentennial Celebration
Saturday, June 3rd from 3pm – dusk. Recalling the division of Goshen Township into East Goshen Township and West Goshen Township.  Events include a full day of family-friendly games and activities, live music, great food, and historical re-enactments and presentations, before culminating the best fireworks display in Chester County.
Pumpkin Festival
Mark your calendar for Saturday, October 15th and plan to attend the Harvest Festival, starting at 10:00 AM. This event will feature hay rides, a drawing contest for kids, a family pumpkin carving contest, frozen turkey bowling, a petting zoo, and pony rides. In addition, there will be free pumpkins for the kids, a raffle for the GIANT pumpkin and Farmers' Market vendors. Be sure to enter the pumpkin pie eating contest. Over 2,500 people attend this event.
Tree Lighting
Plan to attend the Tree Lighting on Friday, December 9th, starting at 6:00 PM. This event, designed to put the entire family in the spirit of the season, features a visit from Santa, caroling, a dance performance, and the announcement of winners of the house decorating contest and the canned food drive for the West Chester Food Cupboard. The kids will also have an opportunity to visit with Santa.
Donate
---
Donate Today to help sponsor township events!
Contributions received from local residents and businesses support the major events put on by East Goshen Township each year. Donations ensure that these family-focused activities will continue year after year at no cost to the participants. Interested individuals and businesses may donate through monetary contributions or through donations-in-kind, which include property, stock, art or other valuables. For additional information about these donations, please contact Hal Zuber, Treasurer of FOEGT. 340 Wyllpen Drive, West Chester, PA 19380.
All donations are tax deductible and can also be made on this website through Pay Pal.
Remember that having fun together is a great way to start a relationship. Attending and supporting these events offer a great way to meet other Township residents and business owners in East Goshen. FOEGT plans to expand its marketing activities to attract additional interest from local residents, as well as from area businesses.
Donate Today!
Board Members
---
Joe Bové
Joe Bové, President, is a resident of Hershey's Mill, where he is active in community affairs, including serving as President of Quaker Village and a Board Member of the Homeowners' Association and Chairman of its Marketing Committee. He is a retired Information Technology  executive  from Sun Oil Company. A graduate of Villanova University, Joe is an avid follower of the basketball team.
Greg Gaul
Greg Gaul is President of Gaul Advertising, Inc., and Founder of the Fireman's Hall National Fire House and Museum in Philadelphia.  An avid golfer, Greg is a member of several golf clubs in the area and serves as Vice President of the Philadelphia Seniors Golf Association. A graduate of St. Joseph's University, he is a resident of Ulster Village in Hershey's Mill.
Demi Kozlowski
Demi Neilson, a new member and a retired PR executive, served as President of The Neilson/Hetrick Group, an investor relations consulting firm and as Director of PR for two corporations. Demi resides in Eaton Village in Hershey's Mill, where she is active in the Sports Group, Social Club and Channel 20. She is a graduate of Dickinson College and West Chester University.
John Jam Jamgochian
John Jam Jamgochian is an Associate Broker with REMAX Preferred in the East Goshen Township office and has been active in real estate since 1990. He was active on the Park and Recreation Commission for the past few years and now serves as Secretary of FOEGT. He has been active in marketing FOEGT activities to local businesses recently.
Hal Zuber, Jr.
Hal Zuber, Jr., serves as Treasurer of FOEGT and is a 40-year resident of East Goshen.  Hal is a retired Chief Financial Officer of an industrial company and a member of the AICPA.  A graduate of Clarion University, Hal is a former West Chester Area School Board member, Northbrook Canoe Board member, and now invests in small private businesses.
Thom Clapper
Thom Clapper, Vice President of FOEG, Township Auditor, Chairman of the Vacancy Committee, an East Goshen resident since 1967, former Township Supervisor and Chairman of the EG Republican Committee, and currently Chairman of the Chester County Health and Education Facilities Authority.  A Penn State and Notre Dame graduate, he taught in high school and at the Penn State Graduate School.
Partial List of Contributors
---
Timothy Off Heating & Air Conditioning
MacElree Harvey, LTD
Unruh, Turner, Burke & Frees
Master P's Tae Kwon Do
East Goshen Republican Party
New York Life Insurance
Friends of Dan Truitt
PECO
Underground Services, Inc.
Battavio Heating, Plumbing & AC
BB&T Bank, formerly Susquehanna Bank
Applebrook Golf Course
Boot Road Veterinary Clinic
Country Meadow Landscaping
Alliance Environmental Systems
Precision Mechanical Services
Conway Power Equipment
PA Leadership Charter School
IMX Management Services
Swiss Farms
Seltzer & Sons, DDS
Pipe Data View Services
AJ Blosenski, Inc.,
Charles H. MacDonald Electric, Inc.
Tecniplast
Applebrook Associates, LP
Del Vecchio Landscape and Garden Center
Hershey's Mill HOA
UPS Store
Shady Tree, Inc.
Lenni  Electric
Pennoni  Associates, Inc.
Buckley, Brion, McGuire and Morris LLP
Nicholas & Andrea Perakis
Contact
---
We'd love to hear from you!